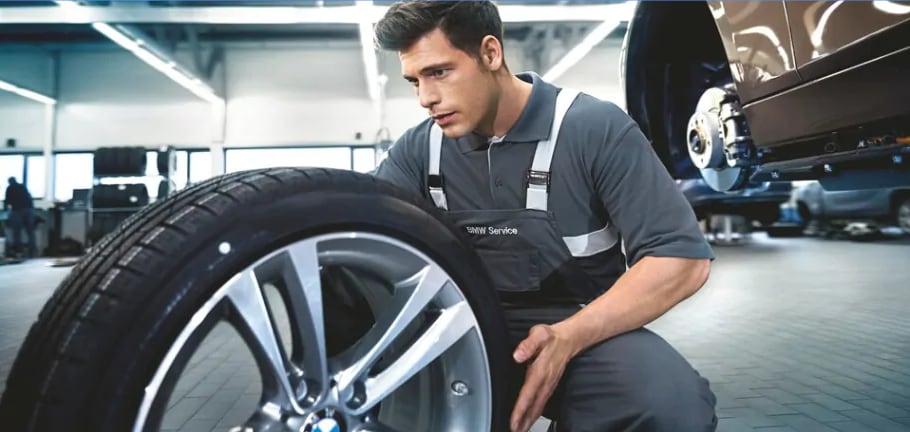 Finding the Right BMW Tires in Charlotte
Unlike with other BMW maintenance - like BMW battery replacement, oil changes, or brake repair, there are many different options when it comes to choosing the right tires, and our BMW service team wants to help you feel confident with the ones that you choose for your next new or used BMW. Typically, the size and type of your BMW tires are two of the most important factors that you need to consider when choosing the right tires, and our experts are here to help with it all. Our certified technicians at our BMW service department will match your vehicle to the perfect BMW tires for your specific BMW model and trim, which eliminates the guesswork and research!
Knowing When to Replace Your BMW Tires
It's important to replace your BMW tires when there's any obvious or unrepairable damage or when the tread has worn down. Replacing your BMW tires when the tread is low is not only important to the vehicle lifespan and longevity, but also for the passengers inside of the vehicle because when the tread is low, it becomes unsafe to drive since the tires will not be able to grip the road and handle weather conditions like rain, ice, or snow. A quick and easy way to identify if your tire's tread is too worn is the Penny Test. To do this, place a penny upside down in between the tire tread. If you can see the top of Lincoln's head, the treads are worn and tire replacement is needed! If you're unsure about the penny trick, simply stop by our BMW dealership and our service team can check your tires for you!
Get Your BMW Tire Replacement in Charlotte
If you find yourself in need of a BMW tire replacement or even a second opinion if you are unsure, there's no better place than an authorized BMW Service Center like Hendrick BMW Charlotte. Avoid the confusion of a normal tire shop by assuring you get the right BMW tire for your specific model, replaced by a factory-trained team of technicians at a competitive price. Contact us with any questions or schedule a service appointment to get your tires inspected or replaced today! Since this is a matter of you and your passengers' safety, the sooner the better! Also, be sure to take advantage of any BMW service coupons we have to offer!
Frequently Asked Questions About BMW Tires
How Often Should You Rotate Your Tires?
Generally, you should have your tires rotated every 5,000 - 7,500 miles or every six months, whichever comes first. Our BMW Service Center recommends you check your owner's manual for information on your specific BMW tires. Schedule your tire rotation today!
How Do I Read BMW Tire Size?
To read your BMW tire size, you will need to locate the series of numbers and letters on either side of your tire. These numbers are indicators of the size, type, and performance of your tires. Then, contact our BMW Service Center today for BMW tire replacement or repair!
How Long Do Tires Last?
Assuming you follow the recommended tire rotation and alignment schedule, BMW tires can last anywhere up to 50,000 miles, which for a typical driver, is between two and five years. The terrain you drive on, your driving style, inclement weather, and other factors may also affect the lifespan of your BMW tires.
Do BMWs Come With Spare Tires?
Simply put, no, BMWs do not come with spare tires. Instead, they have "run-flat tires" which are tires that you can continue to drive on after a puncture so you can take the time to safely get to a BMW Service Center to get it replaced.
Sales Hours
Monday

9:00 AM - 7:00 PM

Tuesday

9:00 AM - 7:00 PM

Wednesday

9:00 AM - 7:00 PM

Thursday

9:00 AM - 7:00 PM

Friday

9:00 AM - 7:00 PM

Saturday

9:00 AM - 5:00 PM

Sunday

Closed