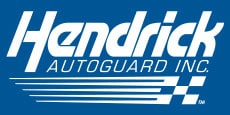 Mechanical Repair Service Contract
When you purchase your vehicle, you receive a Manufacturer's Limited Warranty. These warranties vary depending on the make and model of your vehicle. The most common Manufacturer's Limited Warranty coverage is 36 months and 36,000 miles. Once you exceed these guidelines, you become responsible for many major repairs on your vehicle.
Would you like to be protected against the cost of unexpected repairs?
Get Pricing Information For Protecting Your Vehicle
24 Hour Roadside Service
This plan offers towing and roadside service 24 hours a day, 365 days a year, in the U.S. and Canada, and includes:
Towing
Battery Jump Start
Flat Tire Change
Gasoline Delivery
Lock-out Assistance
Special concierge services are offered to ease the inconvenience of a breakdown. Please refer to your extended service agreement for specific towing allowances and Hendrick Autoguard roadside coverage.
Substitute Transportation
This plan offers rental reimbursement any time a covered component fails and the repairing facility retains the vehicle overnight. Please refer to your extended service agreement for specific rental allowances.
---
When thinking about buying, consider these facts.
Fact #1
Your manufacturer's warranty is very comprehensive. It covers virtually every part of your vehicle and can help prevent you from paying expensive repair bills. One problem, it ends! And, when it does, you are exposed to the costs of unexpected and expensive auto repair bills.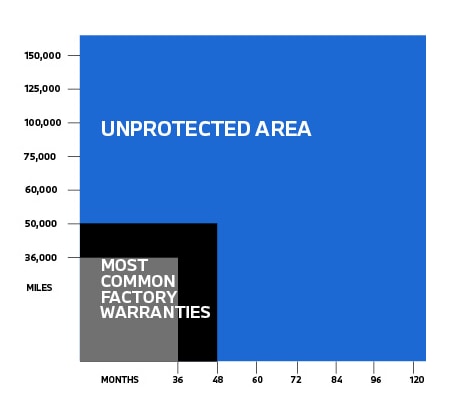 Fact #2
As your vehicle gets older, the risk and cost of repairs may increase.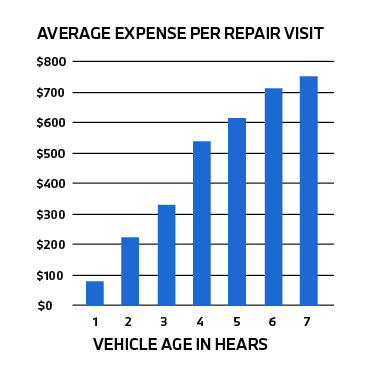 Fact #3
Each year more and more sophisticated technology is built into vehicles to improve their safety, performance, comfort and value. These same innovations increase the vehicle's reliability. However, if something does go wrong, the necessary repairs are often complex and costly.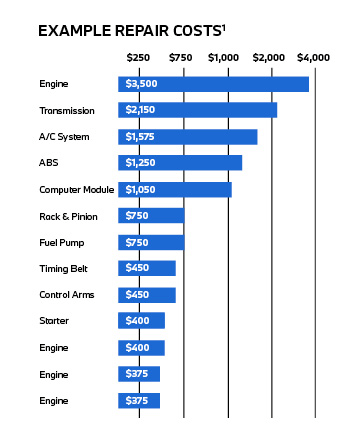 Extended Service Agreement
Let's face it, life just happens. No one wants to have to worry about the cost of repairs once their vehicle's warranty runs out. At Hendrick BMW we offer extended service agreements which are completely customizable to fit almost anyone's driving habits. Low mileage drivers can opt for coverage up to seven years from the vehicle's original in service date. Higher mileage drivers can choose fewer years and up to 135,000 miles of coverage. For your convenience, we also offer a choice of zero, fifty, or $100 deductible plans to accommodate each driver's individual budgetary preference. 
Prepaid Maintenance Plans
Everyone is looking for ways to save money. At Hendrick BMW we understand that, and in response we've developed a completely customizable way for our customers to save money on the cost of regular maintenance for their BMW. Not only do drivers get an upfront discount on each service, they also benefit from locking in to today's parts and labor rates so as to avoid the cost of future price increases. We offer both the Hendrick Autoguard and BMW prepaid maintenance plans. With the Hendrick Autoguard plans you can purchase services all the way up to 120,000 miles and they never expire. Drivers can also be reimbursed for unused services if they get rid of their vehicles before using up all of the services. The BMW plan allows drivers to purchase up to five services, and those plans can be residualized on a lease which adds up to even more savings. In each case, the more services you buy, the more you save. It's that simple! 
Guaranteed Asset Protection (g.a.p.)
Unfortunately, we all know that vehicles lose value each year and there's nothing any of us can do about that. However, there is something you can do to protect yourself against that loss of value if your vehicle is ever involved in an accident and declared a total loss. Guaranteed Asset Protection (GAP) coverage insures that, on one of the worst days of your life, you won't have to worry about the current value of your vehicle. Any difference between what your vehicle is worth and what your loan balance is will be covered. And if you're at fault, GAP will even cover your deductible up to $1000! That way you NEVER have to worry about coming out of pocket to pay off a car loan on a vehicle that's been totaled.  
Car Care
A bright clean car, inside and out, will always hold its value better than a car that's faded, dirty, and full of interior stains. At Hendrick BMW, in conjunction with Hendrick Autoguard, we've developed a program that is all about making sure that your new vehicle will look its best for years to come, with as little work and effort as possible on your part. Our Car Care program puts each vehicle through a three step process. Starting with the exterior, a specially formulated Teflon based coating is applied to all of the painted surfaces. This helps protect those surfaces from damage caused by things like bird droppings, bug guts, tree sap, and acid rain. On the interior we treat all of the carpeted surfaces with a patented product called Banoyl. Once that's applied those surfaces are able to repel both oil AND water based stains. Lastly, we treat any leather and vinyl surfaces with a conditioning product that helps protect against fading and cracking. Three and five year guarantees are available depending upon the vehicle's current age and mileage. 
Road Hazard Tire And Wheel Coverage
It's happened to almost every driver at some point while behind the wheel. A nail gets stuck in a tire, or there's an unseen curb or pothole that causes damage to the vehicle's tire and wheel. With the price of today's high tech tires and stylish wheels, it doesn't take much of an impact to do some very costly damage to those items. Road hazard tire and wheel coverage takes care of the cost of any damage to your vehicles tires and wheels that occurs while driving, INCLUDING cosmetic damage (scratches and "curb rash") to the wheels. And the best part is there are no out of pocket expenses to worry about since all coverage comes standard with ZERO deductibles.
Make an Inquiry
* Indicates a required field