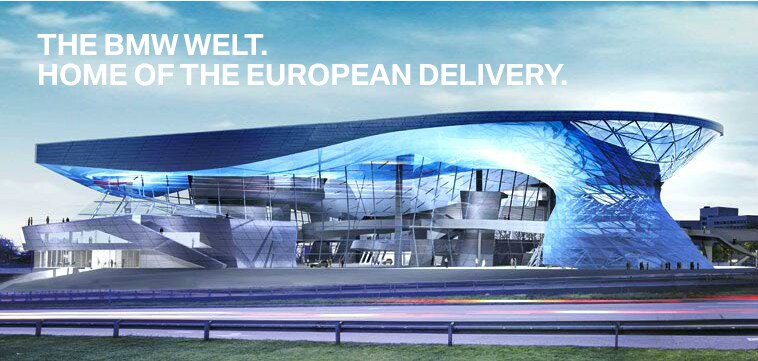 Meet your vehicle in the place where it was made.
Your first drive can be a lot more exciting than going from the lot to your driveway. Meet your BMW at the renowned BMW Welt, enjoy exclusive VIP tours of BMW facilities, take your new vehicle for its first drive across the famed Autobahn, choose from five Driving Adventure packages, stay in world-class hotels, and then meet your vehicle back home at the end of the trip.
Start your journey:

Step 1: Order your BMW, and save.
You can save up to 7% of the base MSRP. Those kind of savings might even pay for your vacation!
Step 2: Plan your trip.
BMW offers special pricing in all three cabins of their award-winning Trans-Atlantic Joint Venture* partners.
*Trans-Atlantic Joint venture partners = Lufthansa, Swiss International Airlines, Austrian Airlines, Brussels Airlines, United Airlines & Air Canada

Step 3: Pick up your BMW at the BMW Welt. Get a closer-than-ever insight into all aspects of the BMW brand with factory and museum tours.

Step 4: Drive through Europe. Now that you've carefully selected the BMW that fits you best, it's time to design the ultimate travel experience to go with it. Choose from three amazing itineraries or build your own driving adventure.

Step 5: Meet your BMW back home.

European Delivery price includes:

- Complimentary shuttle service from the Munich Airport to the BMW Welt or downtown Munich Hotel
- 14 days of complimentary road insurance and registration
- Complimentary factory tour and museum visit
- European inland transportation from the drop-off point to the nearest port
- Marine insurance
- Customs duty and clearance
- U.S. port processing and accessory installation
- Wharf and handling fees

If you're interested in the trip of a lifetime, enter your information in the form to the right, or call us at (888) 845-4263.