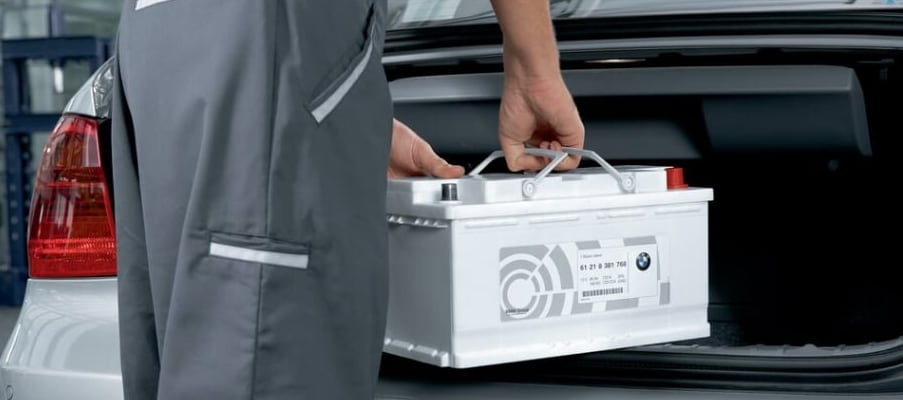 Continuing Care for Your BMW Battery in Charlotte, NC
Ensure your BMW is running efficiently by caring for its battery. Our qualified service center can provide
maintenance and protection
to ward off sudden power failures when you need it most. Visit us today in Charlotte, NC to protect your engine and make sure it's consistently operating!
How to Increase The Longevity Of Your BMW Battery?
There are a few things you can look at to help your
BMW battery
continue to operate at it ages, all throughout your time of ownership.Avoid frequent short distance drives. Remember to start your BMW with all the electronics turned off and be sure you don't park your car in the cold for too long. By incorporating these best practices, your battery will faithfully perform for most of its lifespan.
What Are The Signs Your BMW Battery Needs To Be Replaced?
There are many signs that will help you figure out if you should get a
BMW battery replacement
. If you can clearly see any welts, cracks, or lumps on your battery casing, then it is imperative for you to
visit our dealership
for a new battery.Also, there are easy-to-understand signals that can be identified through your BMW's performance to help you know it's time for a new battery, like if your vehicle requires numerous tries before starting its engine, or if your lights are not as bright as normal.
What Is The Average Lifespan Of An OEM BMW Battery?
It's too difficult to determine the lifespan of an average battery, but it's normally between 3 to 5 years. Visit
our service center in Charlotte
and ask one of our experts about our battery replacement service if you think you may need a new battery.
Are BMW Batteries Covered Under Warranty?
Looking for peace-of-mind when buying a new battery?
At Hendrick BMW of Charlotte
, you're in luck! Genuine OEM batteries sold there are protected under warranty up to 2 years. Call us today at
(704) 321-4851
and we'll look into the details of your specific battery's policy. But please note that exclusion criteria still applies; any physically damaged or cracked batteries, recharged ones and those connected with non-OEM components may not be eligible.
Is Driving With The Battery Light On Safe?
A defective alternator can be dangerous if your BMW's battery is not charging properly. If the warning light illuminates while driving, turn off non-essential accessories such as radio or the air conditioning to preserve power and avoid being stranded on the side of the road. When multiple warning lights appear, including that of your vehicle's battery, drive directly to safety before
getting help from experts
in automotive repair services.
Has your BMW started displaying a battery warning light on the dash?
There's a chance that it could be because of an issue with the serpentine belt. It might show other signs of malfunction too, like challenging steering or engine overheating. If you're near Charlotte and need help getting your vehicle checked out, contact Hendrick BMW of Charlotte. They offer conveniences such as free Wi-Fi access to customers when they are waiting for their vehicles to be serviced. Call them at
(704) 321-4851
now if this applies to you.
BMW Batteries Near Me
Searching for a
BMW battery replacement service
? When your vehicle won't start, you need a dependable solution fast! Get back on the road and sidestep the inconvenience with our
BMW battery replacement service
in the Charlotte metro area and beyond.Our thoroughly trained technicians are here to help find an OEM-compliant part that fits your model correctly, no matter if it's large or small. Plus, scheduling online is easy: all you have to do is click "
Schedule Service
" for fast service. Let us take care of keeping you going; we look forward to serving up unbeatable solutions.
Choose Us for Authentic BMW Battery Replacement Servicing In Charlotte, NC.
Don't let a dead battery surprise you. Keep your BMW running and stay connected with the original vehicle battery. Our
M-certified technicians
take the guesswork out of finding your car's perfect fit, no surprises with cost.Trust an M-certified BMW Center for reliable replacement batteries in the Charlotte metro area today. If you're looking for a reliable
BMW replacement battery
, please contact your local BMW experts at
Hendrick BMW Charlotte.
Hendrick BMW of Charlotte Battery Replacement & BMW Batteries For Sale
Searching for a
battery replacement service
near me or have questions about our OEM batteries? Get in touch with our dealership now and receive the answers you need. The professionals at
Hendrick BMW Charlotte
are here to offer help with any issue, big or small, so that you can trust your vehicle is in good hands.Get support through phone calls, emails or chat.
Don't let a problem linger until it becomes bigger and more costly
.
Let us give you peace of mind by getting all the information needed upfront.
Frequently Asked Questions On BMW Battery Services
You rely on your BMW to get you where you need to go, and we know the value of feeling confident when behind the wheel.
That's why our professionals are here
, to help answer any questions about automotive needs or concerns. From battery maintenance tips for peace-of-mind driving, let us help ease some of that uncertainty so you can cruise with confidence.
How Do I Know When My Battery Needs Replacing?
There are a number of signals that help alert you of a battery that is about to fail. If you experience slow engine cranking, trouble starting the vehicle, or a dashboard warning light fashioned like a battery, then it might be time to replace your vehicle's battery.A poor or drained battery can cause several issues with electrical components and should be tested when any of these signs are noticed. Take care of this essential item before it fails altogether.
How Much Does It Cost To Replace A Battery For My BMW?
Don't let battery replacement costs drain your wallet.
Hendrick BMW Charlotte
has the ideal solution! Genuine
BMW batteries
especially designed for each vehicle. With continuously rotating service specials, you will get a fantastic deal and be back on the road in no time. Check
our online coupons
then schedule an appointment now, it's that easy!
How Long Do Batteries Typically Last?
Knowing how long your car's battery will last is essential for upkeep. Many batteries, when maintained properly and used under ordinary conditions, can forecast a life-span of 3 to 5 years, specifically if you're in the southeastern region of the United States, where climates usually run hotter or colder than other areas throughout the year. However, severe weather conditions combined with recurrent brief trips can cause acceleration on wear; thus diminishing your battery's overall lifespan much sooner. So be sure to have yours tested regularly.
Sales Hours
Monday

9:00 AM - 7:00 PM

Tuesday

9:00 AM - 7:00 PM

Wednesday

9:00 AM - 7:00 PM

Thursday

9:00 AM - 7:00 PM

Friday

9:00 AM - 7:00 PM

Saturday

9:00 AM - 5:00 PM

Sunday

Closed