Pre-Order The Electric 2022 BMW i4 & iX
Our Next Generation Electric Vehicles. Learn more and Pre-Order today!
Embrace the Future of Luxury Driving with the BMW i4 and iX at Hendrick BMW!
Don't you wish that you could have a more luxurious alternative to conventional gas-powered vehicles? At Hendrick BMW Charlotte, we provide our customers with high-quality BMW SUVs and sedans, including all-electric models! The BMW i4 and the BMW iX are upcoming all-electric models that are sure to make your Charlotte driving experience much safer and easier.
What can an all-electric vehicle do for you? At Hendrick BMW Charlotte, we believe that the new BMW i4 and the new BMW iX are vehicles that represent the future of the automobile industry. Built with the same luxury and high-performance nature that Charlotte lovers have come to know and love from BMW, these two all-electric vehicles will totally eliminate your need to stop at the gas pump. Recharging your all-electric BMW is simple: you can either charge up at home or stop by one of the thousands of public charging stations across the United States. Whether you're staying local in Charlotte or going on a road trip, a BMW electric vehicle will suit your needs.
---
New BMW i4
The BMW i4 is an upcoming all-electric sedan you will soon find in our new inventory. The new BMW i4 boasts some seriously impressive style, with classy accents and an aerodynamic shape making this car a head-turner on the streets of Charlotte. Get the new BMW i4 to enjoy an all-electric range of about 300 miles, a maximum 536 horsepower, and an AC charging time of about eight hours. With such fantastic performance, you can enjoy fast acceleration, giving you the ability to reach 50 miles per hour in just 3.7 seconds.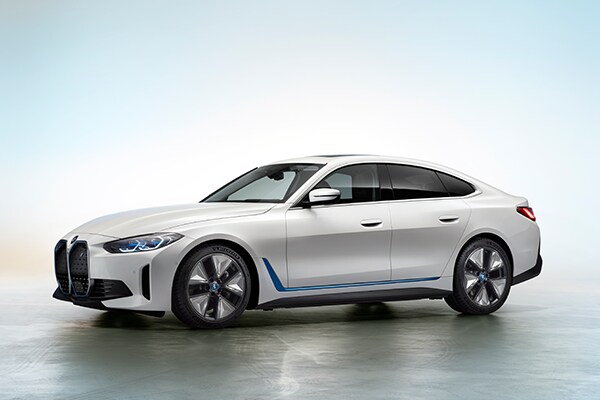 New BMW iX
All-electric performance in a compact luxury SUV package? No, it's not too good to be true. The new BMW iX is a Sports Activity Vehicle (SAV) that boasts some incredible performance and plenty of space for all your cargo, equipment, and passengers. Heading out on the highway? You can enjoy incredible all-electric performance with a maximum estimated 500 horsepower, fast acceleration, and an electric driving range of about 300 miles. When you need to hit the road quickly, use DC Fast Charging for about ten minutes to enjoy about 75 miles of driving.