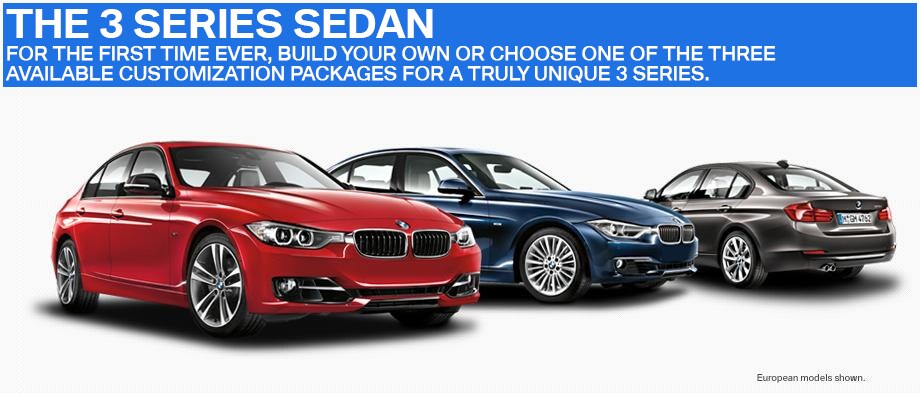 Sleeker Design
A redesigned exterior and interior make quite the impression.
 - Longer length and more storage space
 - Three unique customized lines


 
Powerful Performance
The Ultimate Driving Machine lives up to its names with these options:
- 4-Cylinder TwinPower Turbo Engine
- 6-Cylinder TwinPower Turbo Engine
- Responsive 8-Speed Automatic Transmission

 
Innovative Technology
Featuring additional state-of-the-art technology:
 - Full color Head-Up Display
 - The American debut of Traffic Sign Recognition technology
 - 6.5" freestanding iDrive screen

 
Impressively Efficient
Power and efficiency go hand in hand with the help of:
 - TwinPower Turbo technology
 - Auto Start/Stop technology
 - ECO PRO Mode

A CONVERSATION WITH THE BMW 3 SERIES DESIGN AND ENGINEERING TEAM:

What characteristics of the 3 Series do you strive to maintain and enhance?
A BMW 3 Series is the benchmark for dynamic design, being fun to drive and offering all-day usability. We wanted to create a larger smile on the faces of our customers when they are in the driver's seat. For instance, the interior is the typical BMW driver-focused orientation. This is important for a car that is driven in a very sporty manner. We've also made many elements of the Sport Line standard on 328i and 340i models, made a comprehensive improvement in the chassis and introduced a new engine for the 340i and the 340i xDrive - a six-cylinder with more performance that will create sheer driving pleasure.

As the team designed and developed the 3 Series suspension how did you
want the final product to feel to the driver?
More sporty! We've made improvements on all three chassis types - the standard, M Sport and the Adaptive M Suspension chassis. By introducing new damper technology and refined steering, the chassis has been made stiffer for a sportier feel without compromising comfort. We recently drove the new 340i with Adaptive M Suspension on a handling course, and the precision of steering combined with the light-footed, effortless handling through the tight curves was amazing. That makes you look forward to the next curve!

Why is the 3 Series' near-perfect 50/50 weight distribution so important to
its character and to the driver?
The near-perfect 50/50 weight distribution between the front and rear axles makes a BMW superbly agile. The car benefits from a secure steering feel and provides good traction even with heavy cornering loads. This, combined with Dynamic Stability Control, means your BMW remains easy to control even in extreme situations.

What will drivers of this latest 3 Series notice that's different from
its predecessors?
First, they will see new headlights and a broader stance on the road. Our customers will especially appreciate higher steering precision and improved handling. In the interior, they will enjoy the new mix of materials: additional highgloss surfaces and chrome accents. Finally, information and communications technology is even more important to our customers, and they will see improvements here, too. For example, the navigation updates wirelessly via the car's 4G LTE connection.


This year, the BMW 3 Series has made Car and Driver's acclaimed 10Best List for an unprecedented 22nd year in a row. Known around the world for its sporty looks, superior handling and powerful engines, the 3 Series has been a perennial favorite amongst driving enthusiasts and Car and Driver's writers alike. The 3 Series has been on every 10Best List since 1992 and that's an incredible accomplishment for our most popular BMW.
Read the Article